Backpacking in Southeast Asia: Travel Guide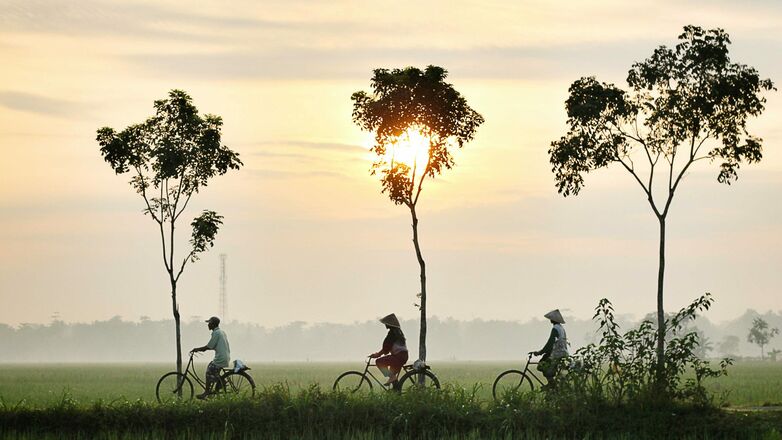 Hello dear readers! You may or may not know this, but I will be leaving to Singapore in just 2 weeks as I will be studying there for about 6 months. Within those 6 months I plan to go backpacking in Southeast Asia and discover all the wonders that lie in that area of our planet. Personally, I can enjoy all sorts of activities when traveling. One day I'll be in the mood to hike up a whole mountain or volcano, and the next I'll be wanting to rest on the beach and work on my tan. Simply everything goes when you're abroad! That's the reason why this small travel guide will highlight places and activities that range from highly active to napping in a nice environment. It's all about balance in the end, right?!?
Now, I will be in Singapore for 5 months and will have 1 month of holidays there at the end of my stay. This means that I have more than enough time there to get to hear from people which exact places and attractions I should visit. However, if there is one thing I've learned about traveling it's that planning never hurts and will only become useful later on! This is why I already have 7 cities in mind that I definitely want to go visit. Some research here and there has also brought me insights into some of the things you can do in those cities, and Youtube videos from travelers have also helped me in becoming more knowledgeable about the prices, laws, and habits that come with each city.
1. Singapore
Okay so, the amazing thing with Southeast Asia is that it can be equally urban, as it can be nature. In some cities you will walk around skyscrapers and busy boulevards and then when you go 40 minutes futher out it'll be like you're in the jungle or something with wild monkeys all around you! Best of both worlds, am I right?!
What to do/visit:
Marina Bay Sands
The Merlion
Garden's by the Bay
Universal Studios
Botanic Gardens
Little India
Sentosa Island
2. Kuala Lumpur
Kuala Lumpur, the capital of Malaysia, is the number 2 on my list as it isn't too far away (just a 5 hour bus drive from Singapore) and will thus make for an exciting weekend escape from my studies.
What to do/visit:
Petronas Twin Towers
Batu Caves
the bird park and/or butterfly park
Thean Hou Temple
Jamek Mosque
Kuala Lumpur tower (Menara)
Bukit Bintang
3. Hong Kong
Surrounded by ocean and forest, Hong Kong is a must when traveling in Southeast Asia! From camping on the beach, to shopping in giant malls, Hong Kong has lots to offer for everyone and will keep you busy all day (and night!).
What to do/visit:
Victoria Peak
Hong Kong museum of art
Tsim Sha Tsui
Lantau Island (Po Lin Monastery)
Disneyland
Sky100
cheung chau
4. Bali
If you're a fan of relaxing on the beach, then Bali is the perfect place for you! With a cocktail in hand, appreciating the nature and purity of your environment, life doesn't always need to be difficult, ay?! But no worries! There's lots to do, if you're more of an adventurer...
What to do/visit:
Ujung water palace
Pura Tirta Empul
Tegalalang Rice Fields
Ubud Monkey Forest
Surfing in Kuta
Ulun Danu Temple
Treetop Adventure Park
5. Bangkok
I went to Bangkok about 5 years ago and I absolutely loved it! The shopping malls were bigger than I could ever have imagined! ...I think we spent 2 whole days just walking around in the shopping malls... lol 15 year old me being uncultured and all. ? That's exactly the reason why I'm happy to be going again this fall as I want to experience the city as a young adult and thus both enjoy the culture that lies in the city, as well as the student attractions (aka cocktails).
What to do/visit:
Wat pho temple
Chatuchak market
Street food
Bang Krachao (Bangkok's green lung)
Boat Ride on the Chao Phraya River
Grand Palace
Siam
6. Ho Chi Minh City
Vietnam is a place that has been coming into the spotlight lately. Never before have I had so many friends going to Vietnam. And, guess what?! They all loved it! The food, the culture, the people, it is a must see! I'm trusting my friends and going to enjoy the cities in Vietnam this year.
What to do/visit:
Ben Thanh Market
Notre Dame Basilica
Museum of Vietnamese History and/or War Remnants Museum
The BBQ Garden
Tao Dan Park
Bitexco Financial Tower
Mekong Delta
7. Siem Reap
No one could possibly withstand the beauty of the temples in Siem Reap, Cambodia. I think Cambodia is the underdog of countries in Southeast Asia?! People often underestimate the greatness and culture that Cambodia can light you in on. That's why we are now going to convinve you of why you should go.
What to do/visit:
Angkor Wat
Tonle Sap Lake (floating villages)
Ta Prohm
Pub Street
Angkor night market
Flight of the Gibbon (ziplining through the Cambodian jungle)
Landmine Museum
That's a wrap on Southeast Asia, even though there are SOOOOOO many more cities and places to see. Ay, it's a good start! These alone will already keep you busy for quite some time, I think.?
Do you like reading about different places and what they have to offer? Or are you maybe going to Paris soon?? Read about the best cafe's here >
Are you a fan of guides, and having your life a little planned out? Try our Fitgirlcode Guide in order to structure your fitness life >