Chocolate and Nut Strudel
It's almost Christmas which means lots of chocolate covered desserts, cookies and other indulgent treats. Hmm.. sounds like heaven to me but all this sweetness doesn't really have a positive impact on your body. So if you're looking for a tasty but healthy dessert for Christmas, definitely try out Elze-Mieke's chocolate and nut strudel! Doesn't it look delicious?
Chocolate and nut strudel

Ingredients: 
Instructions:
Preheat the oven on 190 degrees Celsius and line a baking tray with parchment paper.
Put the mixed nuts into a food processor.  Once chopped, take 1 tablespoon of the nuts and set aside in a different bowl.
Evenly cut chocolate and mix it with the larger bowl of nuts.
Melt the vegan margarine in a bain-marie. Heat a pan of water on the cooker to gently simmer and place a bowl with the margarine on top. The heat from the water will melt the margarine slowly.
Dampen a sheet of filo pastry and place on a clean tea towel. It is important that you always make the filo sheets moist and soft with a little water. Dry, hard filo sheets won't roll without splitting!
Brush the dampened sheet with melted margarine, sprinkle with some maple syrup and sprinkle it with some of the chocolate and nut mixture.
Repeat layer by layer, until all the sheets of filo, butter, maple syrup and chocolate nut mixture are used up.
Roll the strudel up using your towel and gently place it on the baking tray.
Drizzle with a little maple syrup and sprinkle with the tablespoon of nuts you set aside earlier.
Bake the strudel in about 20-25 min. The nuts on the strudel can quickly turn brown, if this happens cover it with aluminium foil.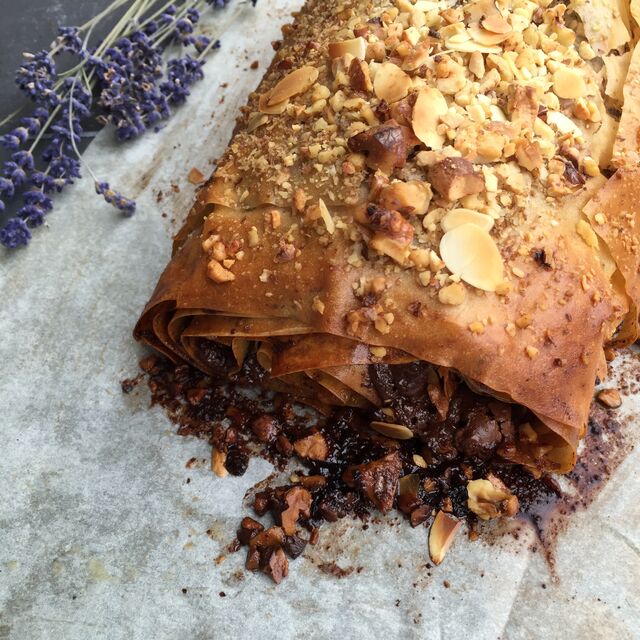 It's really tasty and nice to serve your strudel with some home made ice cream too. If you would prefer this strudel to be fully vegan, simply replace the dark chocolate for a vegan chocolate.
For more healthy recipes check out www.elze-mieke.com.