Creamy mango curry with chicken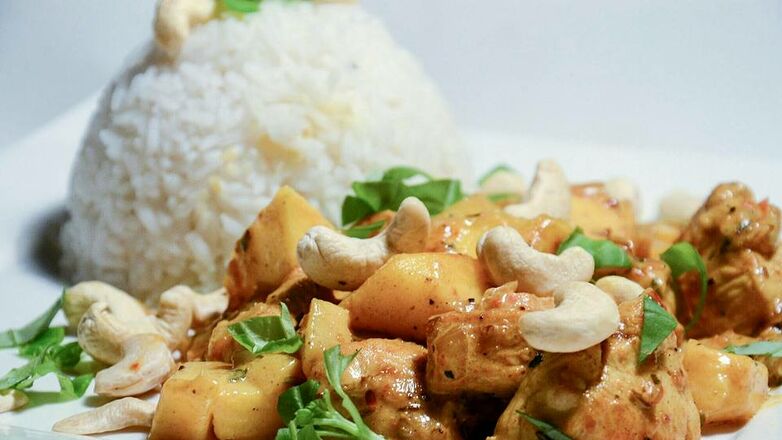 We can't get enough of this one! This creamy mango curry with chicken is one of our favorites from our Guides. Believe me, if you have tasted this you definitaly want more! The recipe is super easy and you don't have to spend hours in the kitchen.
INGREDIENTS (ONE PERSON)
75 gram unpolished rice
100 gram chicken fillet in pieces
75 gram yellow pepper
35 gram onion
30 gram dairy spread light
1/2 mango
1 tl coconut oil
1 tl curry spices
pepper and salt
METHOD OF PREPARATION
Boil the rice the same way as it's indicated on the package.
Cut the chicken in pieces. Heat the coconut oil in a pan and fry the chicken with the curry spices.
Add (after a few minutes) the pepper and onion.
Add the vegetables, mango and the dairy spread to the pan with the chicken.
Leave the pan on the heat until the dairy spread has melted.
kcal 392 | carbs 50 | fats 8 | egg whites 39
Try this recipe out and let us know what you think! Do you have other recipes that we must try? Tell us in the comments or social media :)