Delicious wraps for lunch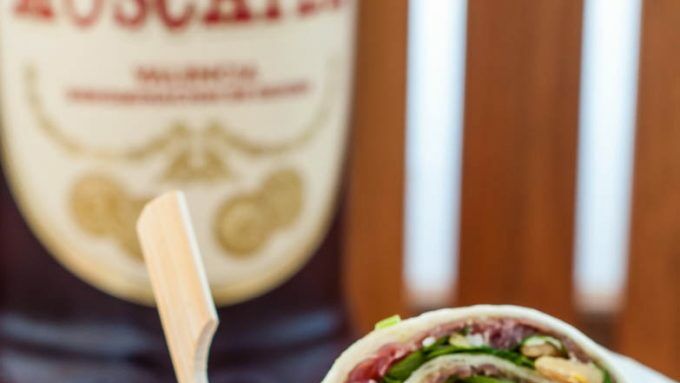 We love a sandwich for lunch, but we also love a bit of variation. That's why we searched for other tasty, healthy options that you can easily prepare and take with you. What we found? Lunch wraps are an ideal solution! There are so many delicious recipes that we almost couldn't choose ... But we have selected the best ones for you!
Lunch wrap with chicken breast
Ingredients
2 (whole grain) wraps
1 tomato
cheese spread
1 spring onions
4 pieces of chicken breast
a hand full lettuce
Easy does it! This super easy recipe is made within minutes and really delicious for lunch.
Source: Pinterest
Wrap with tuna
Ingredients
1 whole grain wrap
30 grams arugula
25 grams dairy spread
½ bell pepper
1 small onion
50 grams tomato
150 grams tuna (waterbased)
20 grams feta cheese
This recipe is from our Happy Healthy Guide,

Wrap with salmon and egg
Ingredients
Smoked salmon (12 pieces)
3 eggs
100 grams spinach
6 wraps
Yum.. This recipe is really delicous! Are you hungry already?
Carpaccio lunch wraps
Ingredients
2 wraps
125 grams carpaccio
1,5 tablespoon pesto
1,5 tablespoon mayonnaise
Arugula
20 grams pine nuts
Parmesan cheese
There is nothing better than a wrap with carpaccio! And it is super easy to make. Can't wait? Let's make it for lunch tomorrow!
Wrap with parma ham and sundried tomatoes
Ingredients for 4 persons
8 wraps
8 pieces parma ham
50 grams arugula
35 grams pine nuts
2 tablespoons green pesto
12 sundried tomatoes
Pepper
6 tablespoons mayonnaise
Yummy! These wraps are perfect for lunch, but also for a party. It doesn't just look good, they taste good as well!
Avocado Caprese wrap
Ingredients
2 wraps
1 fresh mozzarella, cut in pieces
1 tomato
1 avocado
Basilicum
Olive oil
Salt and pepper
Arugula
Balsamic
This recipe is to good not to try! We get instant summer vibes. Do you want to try this?
So many choices.. We love them all! All of these wraps are easy to make and are super delicious. For everyone who wants to try something else for lunch, these wraps are the perfect solution. What is your favorite recipe? Let us know in the comments.