Fruity yogurt bread for an instant spring feeling!
I love the feeling I get once spring arrives! Starting the day with the smell of flowers in the air and the warm sun shining on your skin. During spring time I also love to eat sweet and refreshing snacks. Therefore, I have made this fresh, light and fruity bread with a soy-yogurt base.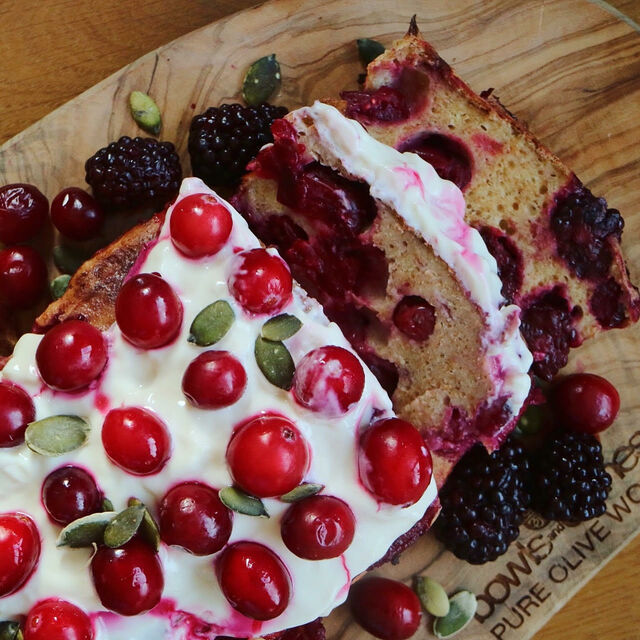 Recipe: Fruity yogurt bread
Ingredients:
3 eggs
1 ½ cups of vegan (dairy-free) yogurt + ½ cup for the topping
1 ½ cups spelled flour
1 tablespoon flaxseed oil
1 teaspoon cinnamon
3 ½ oz frozen cranberries + roughly 2 oz for topping
3 ½ oz frozen blackberries + roughly 2 oz for topping
Preparation:
Add the cranberries and blackberries in a bowl and let them thaw.
Preheat oven to 356 ºF.
Stir the eggs and yogurt together.
Mix the spelt flour, flaxseed oil and cinnamon through the egg and yogurt mixture.
Gently stir the blackberries and cranberries into the batter.
Pour the batter into a cake mold (with some baking paper so the bread can easily be removed).
Let is bake for 40 minutes in the oven.
Let the cake cool and add the remaining yogurt and berries on top.
Bon appétit!
Love,
Maartje
Have you tried to make this recipe? Share your photo with us on social media! You can follow me on Facebook & Instagram for more recipes and inspiration!