Healthy raspberry oatmeal muffins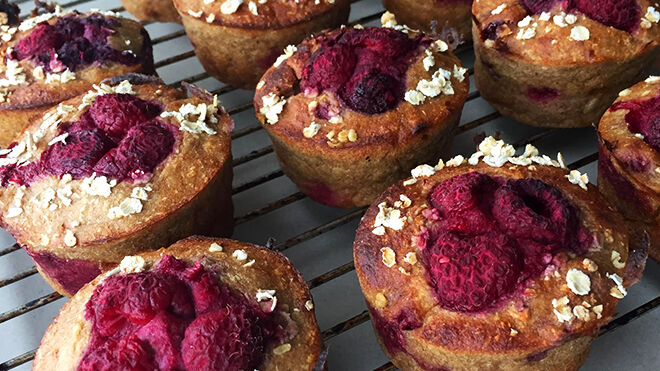 These tasty, healthy raspberry oatmeal muffins are a hit! They are super healthy and full of those good nutrients that you need. Fit Girls Laura, Yola and Aranka got to taste them during one of our shoots, and they were gone in the shortest time, haha!
I hope that you also find these tasty! You can even store them up in your fridge for up to 5 days or freeze them, and remove them from the freezer the night before so you can enjoy them the next day. I love to take muffins with me as an afternoon snack, but these are also even good to take to parties and share!
Ingredients (for about 12 muffins)
8 tablespoons oatmeal

1 scoop vanilla whey

4 tablespoons grated coconut
2 tablespoons stevia powder
0.5 tablespoons baking powder
3 eggs
3 egg whites
A glass of milk (+/- 300 cc)
3 banananas
150 gram frozen raspberries
Topping (optional): more raspberries, oatmeal flakes
Directions
1. Preheat your oven to 200 degrees C.
2. Mix all the ingredients for 1-2 minutes.
3. Divide the mixture equally into the muffin tins and add extra raspberries and oatmeal, if you'd like.
4. Place the muffins in the oven for about 20 minutes.
That's it! It looks like it's a ton of ingredients, but the recipe is super easy. I hope that you all are going to try baking these muffins one time! Follow me on Instagram (@fitgirlroos) for more recipes and fitspiration. If you make the muffins, then tag me on Instagram. I really appreciate seeing your twists on the recipes and finding out what you thought of them!