8 reasons why training with your partner is awesome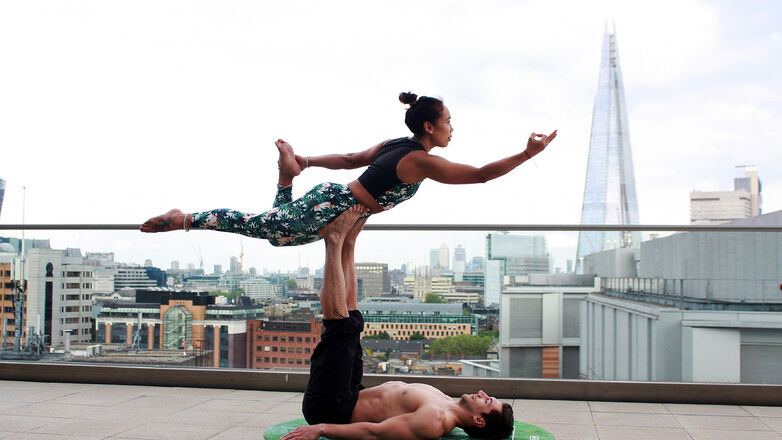 'Train together, stay together.' It might sound a bit silly, but it is absolutely true: training with your partner comes with countless advantages! Today, I've put together my top 9 that I want to share with you. 
1. You always have someone to spot you
It can sometimes be difficult finding the right person that is able to spot you. But when you bring your boyfriend or girlfriend to the gym, that problem disappears. You both always have someone to stand with you when you're trying to make a new squat or bench press PR.
2. Sweating is absolutely not a problem anymore
When you're always coming home as wet as an otter after you workout, it might be a bit uncomfortable to kiss or hug your sweetheart . But when both of you have been pumping iron in the gym together, there's no reason to be ashamed about it.
3. Cheat days are twice as fun
If you thought it was fun to sweat together in the gym room, just wait until you guys hit your cheat day. Believe me, enjoying a huge, greasy burger is so much better when you get to do so together. You don't need to control yourselves since you'll both be back in the gym in a few days and you just get to see the utter happiness written all over their faces as they eat!
4. Your sex life is going to experience a big boost
Working out regularly often works to make people feel better in the skin they are in and also gives their self-confidence an enormous boost. And let's face it, isn't sex always better when there's nothing to be shy about? You've got two people who are super comfortable with themselves and also with each other. On top of that, it's a cardio workout that's going to build up your endurance. Bring on the extra workout!
5. There is no one to fuss about your workout routine
If your boyfriend or girlfriend doesn't understand the commitment that comes with a fit lifestyle, it can be sometimes annoying for them to know that you want to spend your Sunday mornings in a gym for instance. But if you share the love of gym and working out, you both can jump out of bed without disappointing anyone about the loss of quality time.
6. You never have to think about what gifts to get
When you share a hobby, picking out a gift gets just a bit easier. Bottles, yoga mats, a pair of dumbbells or a new sports outfit. A special advantage is that you can also use them yourself most of the time! It's a gift that keeps giving.
7. You always have someone who will encourage you to get off the couch
You sometimes just have those days where it feels like you're stuck to your bed. Even going to the bathroom takes extreme effort. When you have those days, it's your partner who comes in with that encouragement to get you out of that slump. Even though you probably don't want to hear it in the beginning, you'll be proud of yourself after you go workout!
8. Massages all day long
This is probably the best reason on this whole list. Sore muscles is unfortunately part of the deal when you're regularly at the gym  or being active in some way. Luckily, your sportive lover knows this all to well. This means that you're always ready to give each other a nice massage after a day of trying to function with your muscle soreness.
.
9. You're going to share a lot more laughs
A healthy diet and exercise improves your overall mood and general feeling about life. So going to the gym together is going to lower the amount of times you get into silly fights over the little things, making room for a lot more laughs. On top of that, you have more energy to actually go out and do things together. No more excuses!
So, are you a Fit Girl who is into training with your partner? Tell me why!