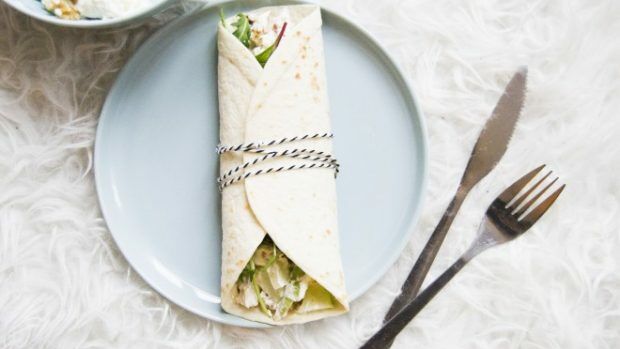 Us Fit Girls always try to eat as healthy as possible, but when we're away from home or have a busy week ahead, it isn't always possible to eat healthy. But that's where the wraps come in. They're the ultimate lazy Fit-Girl product and you can't go wrong with wraps. So here you go: these are 5 super tasty and healthy wraps for a busy week.
SALMON WRAP
I am obsessed with smoked salmon. I used to make salmon sandwiches every day, until one day I thought, why not put it in a wrap? This is exactly what I ended up doing. I made a delicious roll by putting smoked salmon in a healthy whole grain wrap. It is a great meal to make for lunch as well as dinner if you don't feel like cooking yourself or are simply in a hurry. The seaweed especially adds a freshness to this delicious healthy wrap. Hmm, I'm getting hungry already!
All the ingredients:
Whole grain wrap
Cream cheese
Seaweed
Smoked salmon
Sesame seed
The method of preparation:
Spread the cream cheese over the wrap.
Add the salmon and seaweed.
Sprinkle some sesame seed upon it and enjoy!
WHOLE GRAIN WRAPS WITH HUMMUS, FALAFEL AND AVOCADO
Hummus and avocado are two products that I always have in the house as I am absolutely crazy about them! This wrap contains several simple ingredients and adding the falafel to it transforms it into a filling and healthy meal. Take a look at the recipe and try it yourself!
All the ingredients:
Whole grain wrap
Hummus
Falafel
Cucumber
Tomatoes
Avocado
Sesame seed
The method of preparation:
Spread some hummus on the wrap. Add the falafel to it.
Cut the tomatoes, cucumber and avocado in cubes.
Sprinkle some sesame seed on the wrap and bon appetit
WALNUT AND CHICKEN WRAP
I have not yet had the chance to try this original recipe from Roos. After coming across it on the blog, my mouth immediately started watering. This is a recipe I will for sure try out this week! Finally, a salad but then put into a wrap. The combination of chicken, walnuts and appel creates the perfect salad-filled wrap you have been searching for this whole time. Who will try this recipe out with me?
All the ingredients:
Whole grain wraps
Smoked chicken
Arugula
Apple
2 tablespoons of mayonnaise
2 tablespoons of creme fraiche
Hand full walnuts
The method of preparation:
Cut the smoked chicken and apples into strips.
Grind the walnuts.
Put the mayonnaise, creme fraiche, smoked chicken, apple and walnuts in a bowl. Voila, here you have it!
Place all of it on a wrap and put some arugula on it.
PROTEIN RICH TOFU AND BEANS WRAP
Fit Girls like us need proteins to develop our muscles to the fullest and this protein rich wrap is the perfect way to get all the necessary proteins you need. I must admit, I was not a huge fan of beans at first, but over the years I have learned to eat them and I am telling you, they are a great contribution to your diet! They are packed with nutrients and make your wrap taste a lot better. Are you not a fan of tofu? Don't worry, you can easily replace it with any kind of meat, such as chicken or fish.
All the ingredients:
Whole grain wraps
Tofu
Feta cheese
Maize
Tomatoes
Kidney beans
Cumin seed
Salt & pepper
Coconut oil
The method of preparation:
Cut the tomatoes in half.
Let the moisture out of the can maize and kidney beans.
Cut the tofu in small pieces.
Wrap the tofu in paper tissues. Put someone heavy on it, so the moisture can get out of the tofu.

Heat coconut oil in a pan and add cumin seed, salt and pepper.

Bake the tofu pieces for 4 minutes or until crispy.

Put the tofu on the wrap and add the maize, kidney beans, tomatoes and feta cheese.
Enjoy these healthy and super tasty wraps! What's your favorite wrap recipe?