Kickstart your winterdays with these breakfast bars!
Sleeping. It's one of my favourite things to do after a killer work-out. I really love long and cosy nights in my warm bed, especially now it's getting colder outside! As soon as the warm sunrays of summer make place for cold winter storms I start to get 'just ten more minutes issues'.  That's a serious problem, cause like almost every other Fit Girl I reaaaaaally love breakfast too. Can you feel the dilemma? Mealprep to the rescue: problem solved! These delicious breakfast bars will make it able for me to give in to my 'turn over-urge' AND have a super fancy, filling and yummy breakfast: a win-win if you ask me!
The recipe
For the dough (8 bars):
2 ripe bananas
100 gr oats

2 tbsp honey (optional)
2 tbsp coconut oil

1 tbsp cinnamon (optional)
1 tsp baking soda
Possible fillings:
Be creative :)!
Mix it up!
The bars are reaaaaaally easy to make, actually the blender or kitchenmachine does all of the work. Preheat the oven at 180 degrees. Put the banana, oats, honey (optional), coconut oil, cinnamon (optional) and baking soda in the blender or kitchen machine and mix it up untill you get a nice and creamy dough. Add the fillings of your choice and stirr them through the dough untill everything is covered. Pour the mixture on to a baking tray and place it in the oven for about 20-30 minutes untill golden brown.
Let it cool down before you slice bars out of it.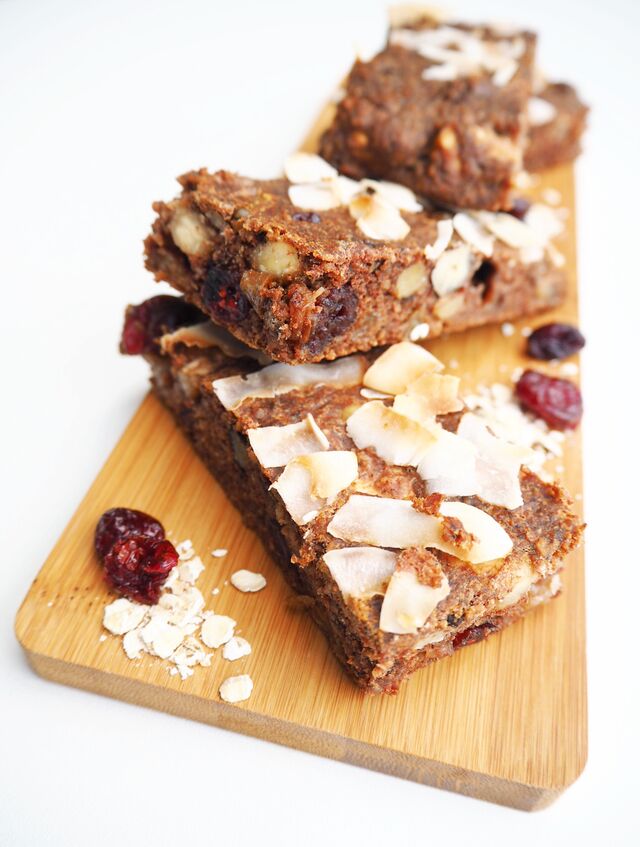 Now you can easily turn over for ten more minutes ánd have your fancy, filling and delicious breakfast: happy mornings! These bars are freezer-proof too so you'll always have a awesome breaky to-go. Are you baking with us? Tag #FITGIRLCODE and Fit Girl Lotte so we can drool with you!