Drum roll... We are launching the #FITGIRLCODE Guide
Yes, after a long wait the time has finally come! In mid-December we will launch our first e-book: #FITGIRLCODE Guide. Say what? Together with the help of experts in the fields of nutrition, fitness and mindfulness we have designed an eight-week guide that gives you the tools to make the best choices for your body and mind so that you can achieve your goals and unlock your personal code to a healthy lifestyle.
What can you expect?
8 week workout schedule (no gym equipment)
8 week eating plan with shopping lists
8 week mindfulness program
free audio mindfulness exercises
Happiness Journal to track your progress
76 easy and delicious recipes
We made this guide so that you have all the tools you need at your fingertips to kick-start your healthy lifestyle. When you're browsing the internet you come across a million and one different resources, some of them free, others costing you a fortune, but none are anything like our guide. We believe that by living a healthy lifestyle you can be the best version of yourself. And that's exactly what you will achieve by following the #FITGIRLCODE guide.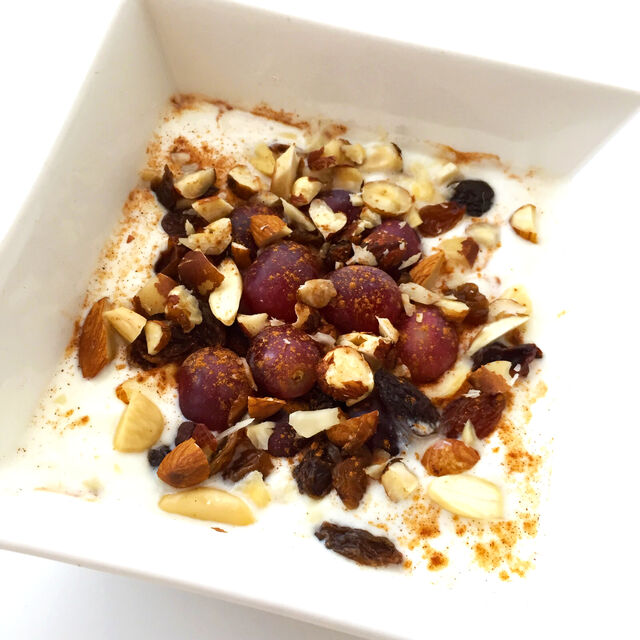 Why is #FITGIRLCODE Guide unique?
We have listened to all of your questions and listened to your concerns since launching #FITGIRLCODE back in 2014. With all of this, we have created a guide that is easy to fit into a busy lifestyle, allows you to enjoy lots of healthy treats and most importantly allows you to unlock your personal code to a healthy lifestyle. Our guide is great to get started living healthy but what happens after those eight weeks? During those eight weeks, you will learn that healthy living is mainly about making the right choices. When you complete our guide, you will have enough knowledge (about yourself too) to continue this new way of life on your own. In addition, we of course will continue to inspire you on #FITGIRLCODE daily with great articles and juicy recipes.
What do you get in it?
T#FITGIRLCODE Guide is the handbook for Fit Girls. All of the girls who work at #FITGIRLCODE have a decent fit journey behind them and write from their experience. By now, we know how we can maintain our healthy lifestyle and we are only too happy to share that with you! We will explain why you should never trust the scales and the importance of before and after photos. An important part of a healthy lifestyle is exercise. In the guide you will find a full-body workout schedule which includes power and HIIT exercises that cause you to be the fittest version of yourself.
Being fit and healthy is for everyone, this guide has adjustments for all fitness levels. The workout days of are suited to the most advanced Fit Girl and for those who are just starting out.
Ever heard of the saying, "abs are made in the kitchen?" You can work out until you drop (preferably not), but if you don't eat healthy then you can think again about getting those results that you are dreaming of. The best 'diet' is in fact not a diet, but a lifestyle, where you create flexibility, choice and variety for yourself so that you can maintain eating this way, happily, for the rest of your life! The meal schedules in this are made based on macro- and micronutrients. What the fudge is that? You will learn it all in our guide. In creating our recipes we have thought about making sure you can buy everything at your supermarket. We know that you have busy lives. That's why we have easy recipes, that use easy-to-find ingredients so that you're not running around shopping for them.
Last but not least: the mindfulness part. Through mindfulness exercises you will learn to deal with stressful situations. Eventually, you will realize the effect your new lifestyle has on your mind. Inner change is perhaps even more important than external changes! For eight weeks, you will have a different mindfulness exercise to practice, which is supported with an audio-guided exercise. Together these will give you a helping hand living a healthy lifestyle. For example, you will learn how to eat more mindfully, so that you can fully enjoy your meals and feel more satisfied.

Happiness Journal
Being happy and healthy is a state of well-being and it is not determined purely by your appearance. That's where the Happiness Journal comes in. In this journal you can measure and track how you feel. The bottom line is you have be honest with yourself - especially if you've experienced some not so Fit Girl moments. Setbacks happen and that's OK. If you can understand why and how it impacts you, you can help yourself to deal with it better next time.

The perfect present for Fit Girls!
#FITGIRLCODE Guide is the perfect present to put on your own wishlist. We will start on the 2nd of January and we challenge you to start with us too, and maybe you know someone who always says she wants to be fit and healthy but doesn't know where to start. This guide could be the final push she needs. Plus, it's really awesome to take on this kind of challenge together!
So do you want to join 100,000 women in our #FITGIRLCODE community and encourage each other to be the fittest version of yourselves? Put on your best sport outfit from your closet, drag your BFFF along to the gym and go into the new year fresh and healthy.