Winter must haves on sale now
Winter really feels like it's approaching now with more cold, wet and grey days. It was too good to be true. So maybe there is still time to get the winter coats out of the closet and even to buy some new winter clothes. It just so happens that there are still major discount and with winter must haves on sale everywhere. Could we be lucky enough to save yourself some cash and snap up a cool, new outfit?! Yes and I've found some of the best bargains for you!
I'm guilty of spending half of my day ordering everything and anything (yes, I have an online shopping addiction) and I came across some items that you should not miss. I don't want to infect you with my problem and my compulsive online shopping but it is definitely worth a look. Here are some winter must haves to get you through these harsh and cold months ...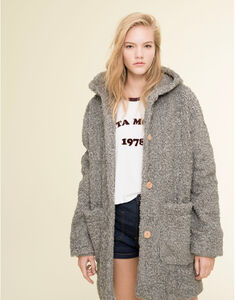 Why a teddy jacket? I bought one last year in a blue / purple colour and it really was my best purchase ever. OK if it rains it is not ideal, but then you have to be a little prepared and bring an umbrella or creative and wear a poncho over it, like us in The Netherlands who bike. This jacket is in fact so warm and fluffy that I really want to hug it all day. Actually, I would like to buy another one, this one, but I try to be sensible and not purchase the same thing twice, although I think it's really cool in the gray...
Was: € 49.99 || Now: € 39.99
These are ultimate winter must haves for any fashion loving girl. I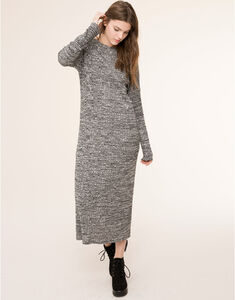 love long and wide clothing. Lovely to hide away from winter and wear to hang out on the couch. Because believe me if I had the choice, during the winter I would rather lie in bed all day. OK, this is obviously not realistic, but with such an outfit you can even feel cosy in the office. Almost like being at home! It is very comfy but also looks stylish in (if you do have to go out the door). I have do not this particular dress, but I do have a number of similar dresses in different colours and sizes. If you wear this style once, you will never want to wear anything else in winter!
Waas: € 17.99 || Now: € 15.99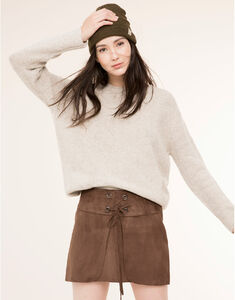 This skirt is really awesome. I really like everything with suede and the related Pocahontas-look. During my summer holiday in Ibiza I bought a similar skirt with buttons on it and I am so happy that I did! When I cam across this skirt but in black only this week, I had to have it. Heck, you only live once I guess. Such a skirt can be combined with so many different things. A sweater, a top, a long cardigan ... and of course thick tights underneath. Then you're ready for winter!
Was: € 29.99 || Now: € 12.99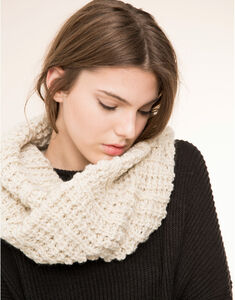 You can't have a complete winter wardrobe without it: a warm scarf. How could I leave this out of a list of winter must haves. Especially with the rain and the wind we get here. I never leave the house without a scarf, preferably one that has a hood is even better to handle the terrible weather. I really have a million scarves lying in my closet, but for some reason I always look forward to wearing my favourite burgundy red one. Still, I find this white one very nice too!
Was: € 15.99 || Now: € 9.99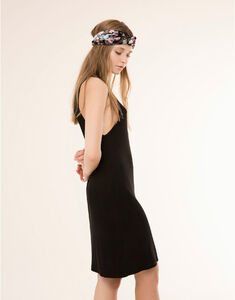 Well, what can I say about this item. Not very wintery, but you can never have enough black dresses in my opinion. My closet is completely full and even though they all look the same, I can not get enough of them. Black is always good. And this is also a bargain. You can understand that I have of course added this to my basket.
Was: € 15.99 || Now: € 9.99
Do you want to get through the coming winter months nice and warm? Then quickly check the sales online and snap up that warm winter sweater or scarf now! You don't even have to go outside to get the best bargains ;).