5 easy peasy lunch recipes
I want to make myself happy every day with a delicious lunch. That's why I dive into my kitchen and get prepping during the evening for the next day before I go and enjoy my late night snack. But it doesn't have to take all evening, you just need to do some necessary preparation. Today I want to share 5 easy peasy lunch recipes for you to take a moment each day and truly enjoy your lunch!
MEAL PREPPING LUNCH RECIPES, YES OR NO?
I often get the question if I practice meal prepping. The answer is no, but that's not because I'm against eating the same thing every day. As some of you who follow me on Instagram may have seen, I have oatmeal for breakfast every day. But why I do not do meal prepping? It's very simple. I find it nice to try something new in my kitchen every evening. I discover new recipes and not only do I have a nice lunch the next day, it's my daily relaxation moment! A win-win situation! Today I share 5 of my favourite lunch recipes so tonight you can also dive into the kitchen and prepare a healthy meal.
WRAPS WITH SMOKED SALMON
Wraps are very high on my list of favourite products. You can vary them endlessly and they are ideal to take with you for a packed lunch.
Ingredients
Two wraps
2 tablespoons light cream cheese
25 grams of rucola
1 large tomato
1 large green onion
50 grams of smoked salmon
30 ml of yoghurt
5 ml mustard
pepper and salt
Preparation
Spread the cream cheese on the wraps. Cut the tomato and spring onion into your preferred size and place some on each wrap along along with the rucola and smoked salmon. Finally, create a dressing of yoghurt and mustard and spread over the whole lot. Add some salt and pepper to finish it off and your lunch is ready lunch!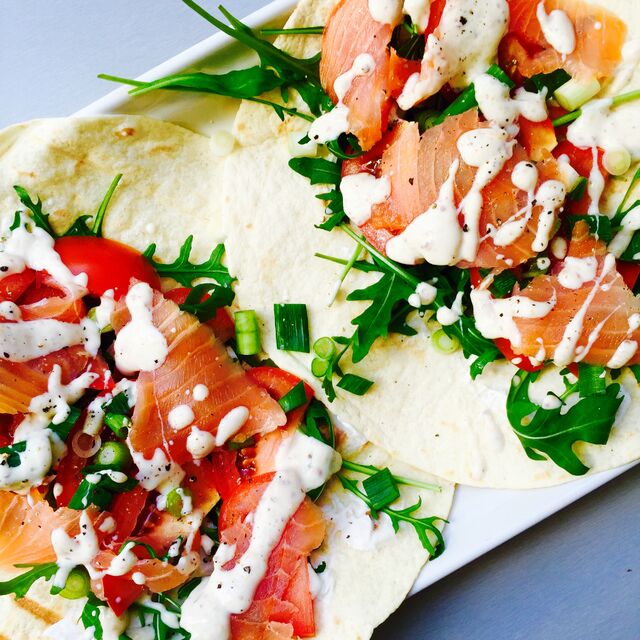 SPINACH COUSCOUS SALAD
Aside from wraps, couscous is something I like to eat several times a week. What makes it perfect for lunch recipes is not only is it easy to make, but also because you can make so many tasty, different combinations!
Ingredients
75 grams couscous (uncooked)
75 ml of boiling water
100 grams of chicken breast
2 good handfuls of fresh spinach
half a pepper
1 tomato
1 spring onion
oregano, salt and pepper
Preparation:
Cut the chicken into small pieces and fry in a pan until cooked. Pour the boiling water over the couscous and leave covered for three minutes (with some foil or a lid.. Meanwhile, cut the pepper, tomato, spring onion and spinach to the desired size. Stir the couscous, then add chicken and all the other ingredients. Finally add the spices. I'm sure you will get envious glances when you are eating this one.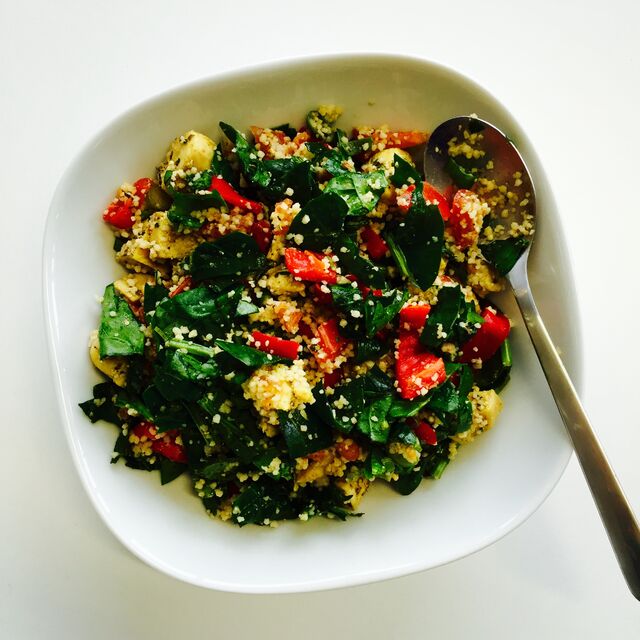 MEXICAN SALAD
This salad was conceived by accident. The night before I had a dinner made with mince and rice. Since I had a fair amount of it left over, I decided to keep it. When I went to the kitchen to make my lunch for the next day, the idea for this Mexican salad suddenly popped into my mind!
Ingredients
100 grams of lean ground beef
35 grams of sweetcorn
half an onion
1 tomato
Half a mozzarella ball (light)
1 spring onion
70 grams kidney beans
2 good handfuls of iceberg lettuce
30 grams of cucumber
handful of sunflower seeds
Mexican spices, salt and pepper
Preparation
Brown the meat in a pan with some Mexican spices. Meanwhile, cut the tomato, onion, mozzarella, spring onion, lettuce and cucumber in the desired size. Add the onion, tomatoes, kidney beans and corn to the pan and wait for a delicious stew to cook until everything is heated through. Once cooked it is time to add the mozzarella. Wait until it begins to melt and then remove the pan from the heat. Allow the contents of the pan to cool and mix with the remaining ingredients for a tasty salad!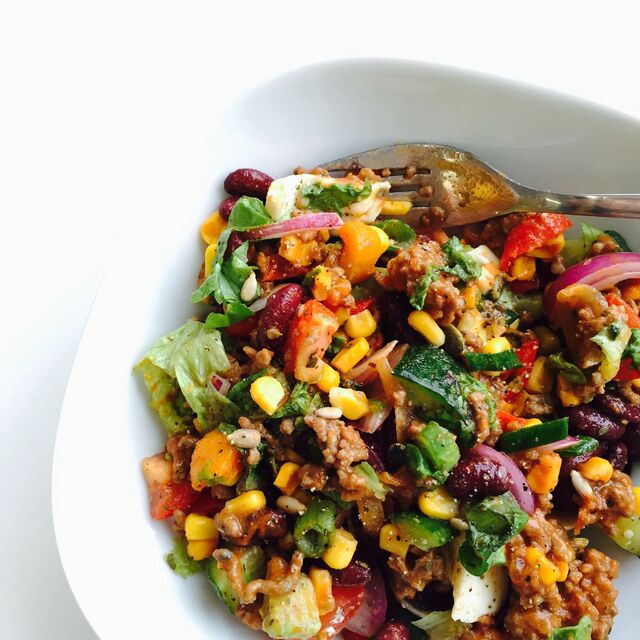 SALAD WITH SWEET POTATO
Sweet potato, who doesn't at this nowadays?! I remember very well when I didn't, it always looked very dirty at the supermarket, so I never wanted to try it. But once I decided to taste anyway, I was immediately sold. Hence this salad with sweet potato!
Ingredients
1 good handful of iceberg lettuce
1 good handful of fresh spinach
100 grams of chicken breast
100 grams of sweet potato
half an avocado
30 grams of cucumber
1 tomato
1 spring onion
30 ml fat free yoghurt
5 ml mustard
salt and pepper
Preparation:
Cut the chicken breasts into chunks and fry until cooked. Do the same with the sweet potato. In the meantime, chop the iceberg lettuce, spinach, avocado, cucumber, tomato and spring onion into desired size. You could also try a honey-mustard dressing on it instead by mixing in some honey with the yoghurt and mustard. Let the chicken breast and sweet potato to cool down, when they are ready and mix them with all the other ingredients. If you prepare the salad the night before, take the dressing in a separate container so the salad stays crunchy!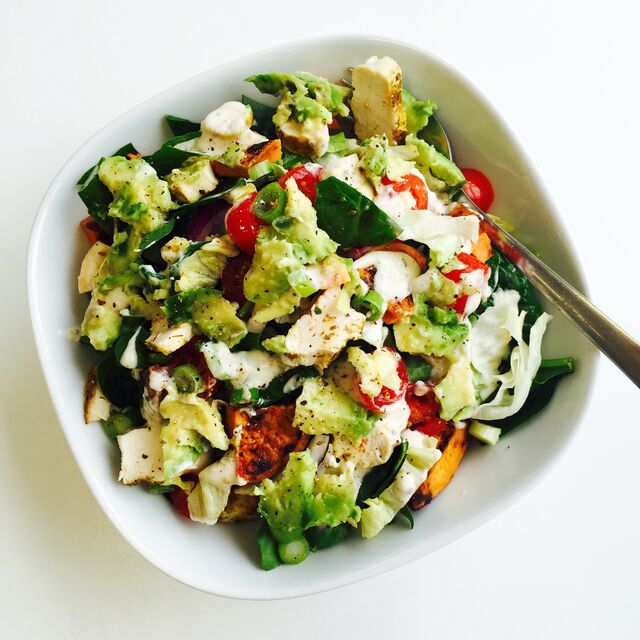 CRACKERS WITH TURKEY BREAST
Whenever I have lunch at home, I eat something that is more difficult to bring to the office. Crackers quickly go soggy when you take them with you so I like to have those when I'm eating lunch at home!
Ingredients
3 crackers
30 grams light cream cheese
6 slices of turkey breast
a handful of rucola
salt and pepper
Preparation
Spread crackers with cream cheese, turkey breast and rucola. Finally, add some salt and pepper! Easy peasy.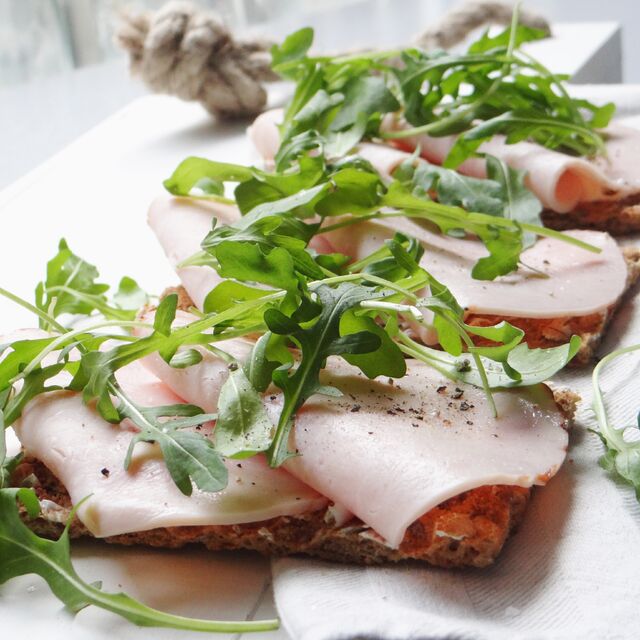 Are you inspired to dive into the kitchen and make these delicious lunch recipes? Let me see your creative ideas by tagging me @estrellavtoor and of course @Fitgirlcode on Instagram! If you're looking for more of my easy recipes that support an active lifestyle, get yourself the Fitgirlcode guide with 80 delicious recipes!