6x healthy snack bar recipes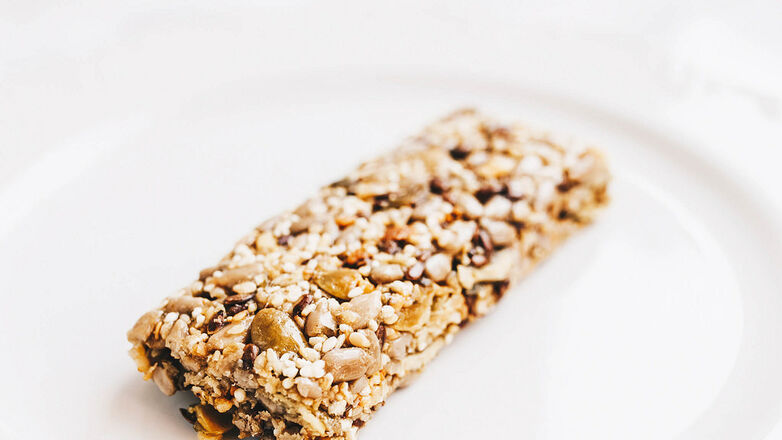 In the journey to one's summer body, snacking has to be sacrificed. Snacks... Those who are always there for us, those who never disappoint, and those who always get our moods up, how could we possibly just give them up? Well, guess what?! WE WONT! Fit Girls love their snacks and so they should. Yet, the usual go-to chocolate bar is not a perfect match with the healthy lifestyle, SO we need healthy alternatives. Luckily for us, there are many options. In order to give you some quick options I gathered 6 healthy snack bar recipes so that you can swap those twix and mars bars in for something your Fit Girl body will appreciate.
1. Apple-cinnamon fruit bar
Just look at it... ahhhhh! It's calling your name! With its fudgy base and its sweet topping, it's basically a healthy apple-crumble snack. How could anyone say no?!
Ingredients:
Crust
1 cup Chopped nuts
3/4 cup Whole-wheat flour
3/4 cup All-purpose flour
1/2 cup Sugar
1/2 tsp Salt
4 tbsp Unsalted butter
1 Egg
2 tbsp Canola oil
1 tsp Vanilla extract
Fruit filling:
6 cups Apples
1/2 cup Apple cider
1/2 cup Sugar
1/4 cup Cornstarch
1 1/2 tsp Cinnamon
1 tsp Vanilla extract
Interested in the full recipe? Check it out here: Eating Well
2. Double-chocolate Peanut Butter Granola bar
No-bake, vegan, gluten-free, you name it! This snack bar will check the list. If you're a chocolate addict and can't even start to imagine a diet without chocolate then you're in luck when it comes to this recipe. A double-chocolate HEALTHY snack bar almost sounds too good to be true. But no, you can make it in your very own kitchen. ?
Ingredients:
2/3 cup Brown rice syrup
1/2 cup Peanut butter
1/4 cup Light brown sugar, packed
1/4 cup Unsweetened natural cocoa powder
1 1/2 tsp Vanilla extract
1/2 tsp Salt
2 cups Quick cook oats
2 cups Crispy rice cereal
1 cup Dark Chocolate chips
If you're in need of this snack and ready to get prepping, here's the full list of instructions: Averie Cooks.
3. Raspberry Chia Bar
This is a breakfast bar that tastes as good as it looks. With a jammy, sweet topping and a solid, crunchy base, this breakfast/snack bar becomes unavoidable during your fitness journey.
Ingredients:
Raspberry chia jam
1 cup Raspberries
1 tsp Honey
1 tsp Lemon juice
1 tbsp Chia seeds
Bar and crumble topping:
1 cup Rolled oats
1 cup Walnuts
1 1/4 cup Pitted Medjool dates
1 tsp Vanilla extract
1/2 tsp Sea salt
Are you a fan of the looks of this oh-so-good snack?! Don't wait any longer, check Daily Burn's full recipe.
4. Blueberry Vanilla Greek yogurt Granola bar
For those who enjoy more subtle snack bars, this is the real underdog of granola bars. With just the classic combo of blueberries, vanilla and yogurt, this granola bar still manages to explode in flavour and kill any cravings.
Ingredients:
Bar
2 cups Rolled oats
1 1/2 cups Brown rice krispies
1/4 cup Shredded, unsweetened coconut
1/4 cup Whole roasted almonds
1 tbsp Chia seeds
1/4 tsp Salt
1/2 cup Peanut butter
1/2 cup Honey
1 1/2 tsp Vanilla
1 cup Dried blueberries
Yogurt coating
1 tbsp Water
1 tsp Vanilla extract
1 tsp Gelatin
1/4 cup Greek yogurt
1 tbsp Honey
1 pinch of Salt
2 cups Powdered sugar
Prepare these granola bars at home and take them with you everywhere you go. Half Baked Harvest provides you with the easy recipe.
5. Blueberry oat bar
Here is another blueberry bar because blueberries are simply the best. This bar is however a lot fudgier than the previous blueberry-filled bar. This vegan, healthy snack bar is exactly what you need for those long hours between your breakfast and lunch. Grab 1 or 2 pieces from your stash, and get going. Snacking has never been easier or healthier!
Ingredients:
Blueberry filling
2 cups Frozen blueberries (thawed)
2 tbsp Ground flaxseed
Crust:
2 Bananas
1 cup Gluten free oats
1 cup Gluten free oat flour
2 tbsp Cinnamon
1/2 tsp Salt
2 tbsp Maple syrup
That's it for the blueberry oat bar, doesn't sound too complicated does it? And if the gluten free ingredients are too difficult to find, and you're not a vegan, then you can just buy the normal products. Follow the recipe here: Petite Allergy Treats.
6. Raw salted chocolate snack bar
I feel like this list of snack bars NEEDS to be concluded with a final chocolatey bar. By the looks of it, this snack bar will do just fine! Bringing a twist to the classic salted caramel bar, a chocolate version is exactly what we've been waiting for all these years. Fit Girls, grab your cooking gear and get started on this perfectly crafted chocolate snack bar.
Ingredients:
Crust
1 1/2 cup Pecan halves
1 1/2 cup Rolled oats
8 whole Medjool dates (pitted)
1/2 cup Coconut oil (melted)
1 pinch of Sea salt
Chocolate filling
1/2 cup Cocoa powder
1/4 cup Coconut oil (melted)
1/4 cup Honey
In order to get your hands on this chocolatey, heavenly snack bar. Check the recipe by Pinch of Yum.
I sure have a lot of snacking to get done if I want to attempt at tasting all of these bars.? I think my favourite is either the blueberry oat bar, or the apple-cinnamon fruit bar. But then again, all the others also fit on my top snacks list, the struggle is too real. Which is your favourite? Do you maybe have any snack bars to add to the list? Share it with us in the comments! ?
Are you looking for a long lasting list of healthy recipes? Check out the Happy Healthy Guide >