3x snacks for the vegans out there!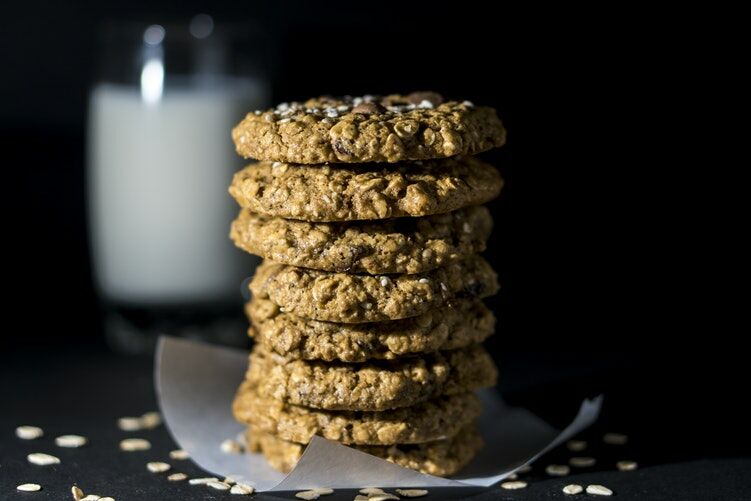 The weekend is the perfect time to make some snacks for the upcoming week! You benefit from it all week. Today we share three delicious vegan snacks, that are also healthy! You get a snack, you get a snack, everyone gets a snack!
VEGAN CHOCOLATE COOKIES
Ingredients
1 banana
60 grams of oat flakes
25 grams of dark chocolate
1 tsp cinnamon
Pinch of salt
Method of preparation
Preheat the oven to 180 degrees Celsius.
Mash the banana and chop the dark chocolate in pieces.
Put all the ingredients in a bowl and mix it together. You can now make the cookies and place them on a baking sheet with baking paper.
Slide the baking sheet into the oven for 25 minutes. Turn the cookies after 25 minutes and then leave them in the oven for 5 to 10 minutes.
Now add everything together and let it cool. You can keep them in a preserving jar or other airtight box. YUMMIE!
VEGAN PEACH DATE CAKE
Ingredients
For the bottom:
8 soft medjool dates
25 grams of buckwheat groats
50 grams of oatmeal
50 grams of coconut chips
1 tbsp of rice syrup
3 ripe peaches
For the caramel:
225 ml of water
10 soft medjool dates
2 tbsp of chia seed
1 tbsp of agave syrup
Method of preparation
Put all the ingredients for the soil in your food processor and mix until everything sticks together. If the ''dough'' is not sticky yet, add some water and 2 more dates.
Then spoon the mixture into a round shape and press it well. Then place the mold in your refrigerator while you make the caramel layer.
The same applies here (for the caramel). Put all the ingredients together in your food processor and let it run until a soft caramel remains.
Spread this over the bottom and put the cake in the freezer for an hour so the caramel becomes hard.
Decorate the cake with slices of peach and enjoy!
SPRINGROLLS WITH AVOCADO AND MANGO
Ingredients
8 rice sheets
1 red pepper
1 avocado
1 mango
40 grams of cashew nuts
pepper and salt
Method of preparation
Cut all the ingredients in stripes and roughly chop the cashew nuts.
Soak a rice sheet for 30 seconds in lukewarm water so that it becomes soft.
Place the sheet on a cutting board and fill it by placing the strips in the middle. Add salt and pepper to taste and sprinkle cashew nuts over it.
First fold the outside inwards and then carefully roll it up.
Well, now we can enjoy our delicious snacks! Which one are you going to make first? And do you want to see more recipes like these? Let us know in the comments!