7x The best veggie burgers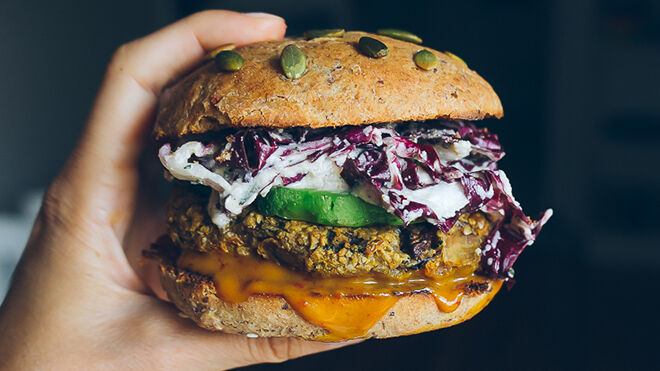 Burgers, I love 'em. To be honest, I always make sure to eat at least one burger during my weekends and to serve them with a portion of delicious sweet potato fries with rosemary and thyme. YUM! Only thinking about it makes me hungry already. While you may automatically think beef when I say burgers, I actually don't use meat every time I make one. There's no need to when there are so many recipes out there for veggie burgers. Time to share my top 7. Enjoy!
Source photo: The awesome green
This burger isn't only completely veggie-proof, but it's also 100% vegan. It can be quite a challenge to create the perfect burger without an egg, but this food blogger has worked it out. This delicious, green burger is a great source of fibres, vitamins and minerals.
Source photo: Pinch of yum
I had no idea that you could make delicious burgers like these out of kale. I have to say that I'm not the biggest kale-fan... But still this recipe caught my attention. It looks delicious and it's also very simple to make. It's made out of quinoa, kale, almonds and eggs. Simple as that!
Source photo: Faring well
This burger is gluten-free and it's also full of vegetables. I absolutely love the combo with the homemade mustard sauce. Are you ready to enter veggie burger heaven? Because that will definitely happen when you taste this big fella.
Source photo: Minimalist baker
If I'd have to name one simple veggie burger to try, it had to be the falafel burger. All you have to do is put the chickpeas, spices, onion and clove of garlic in a blender and mix it until it becomes a nice, soft texture. Bake them in a pan with olive oil and then you have them: your delicious and healthy falafel burgers. The first time I tried to make these, I couldn't believe it was that simple.
Source photo: The awesome green
This colourful burger is perfect for summer. It's made out of beets, quinoa, sweet potato and avocado. The dressing consists of lemon, tahini and avocado. That sounds delish! The chef of this recipe prepared the burgers in the oven, but you could easily fry them in a pan as well.
Source: Peas & Crayons
These incredibly delicious burgers will make everyone happy! They are gluten-free, freezer-friendly and super tasty. Please make these burgers, you'll thank me later.
Source photo: Veggies don't bite
I'm a sucker for Mexican food. So a vegetarian version of a Mexican burger sounded pretty good to me! These burgers are actually perfect to put on your BBQ. Sometimes the texture of veggie burgers doesn't always hold up in comparison to beef, but luckily that's not an issue for this one! I have already saved this recipe because this is the first one I'll make when the weather starts warming up!
Have you got some epic burger recipes? Please share them in the comments!