Chocolate fudge breakfast bars
Yasss! Everyone needs to make these chocolate fudge breakfast bars at least once in their life. The combination of chocolate and peanut butter is to-die-for! Throw in the quinoa and nuts and you're set for the day. You might think that you only put quinoa in salads and hearty meals, but that couldn't be any further from the truth!  Quinoa is super versatile and this time, they add some flavor to these yummy chocolate fudge bars!
Ingredients
(for 7 pieces)
125 gr  organic peanut butter

100 gr 70% pure chocolate
5 gr cooked quinoa
15 gr oatmeal
half a handful of raw pistachios
half a handful of raw pecans
baking tray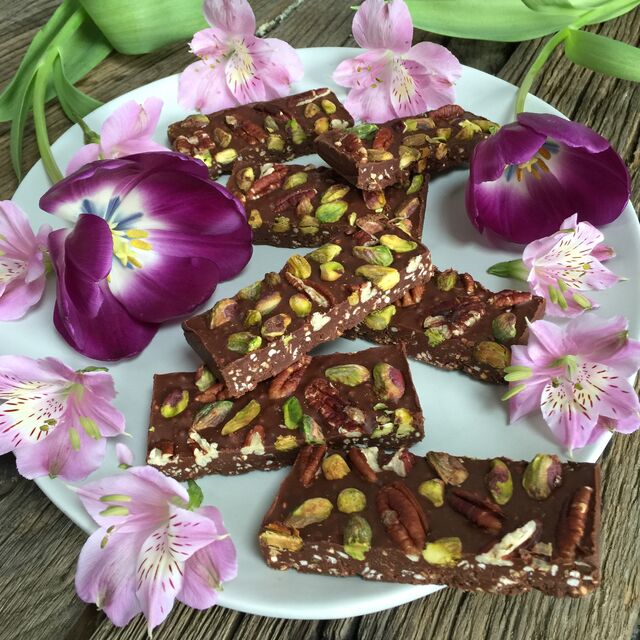 Directions
Roast the raw pistachios and pecans in a skillet until the pistachios get a light brown color. Place the nuts on a plate and let them cool.

Cover the tray with baking paper or foil paper.
Heat the peanut butter over low heat in a non-stick pan.
Break the chocolate into pieces and add them to the peanut butter. It's important that you let the mix slowly melt over low heat, because if the mixture sticks, it will get a burnt taste that you'd want to throw away.  When all the chocolate is melted, remove the pan from the fire.
Add the quinoa and the oats in the chocolate and mix well. Pour the mixture into a bawl and sprinkle the roasted pistachio and pecans.
Let the fudge settle for at least 3 hours in the refrigerator. Cut the fudge into pieces and store in the refrigerator.
These bars are perfect to eat with breakfast or even as a snack after a workout. I know that you'll enjoy them! While you're at it, take a look at www.elze-mieke.com for more tasty recipes or follow her on Instagram at elzemieke.tijl.