Vegan quinoa with mushrooms and sugar snaps!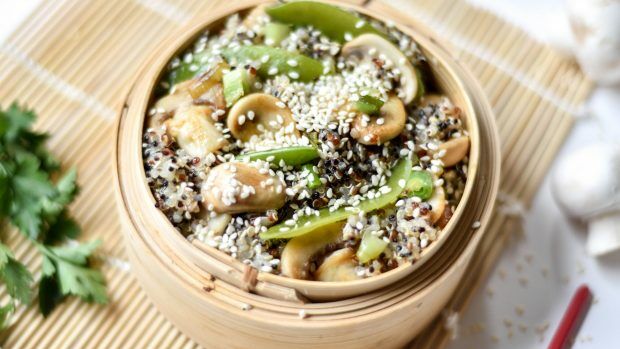 This recipe one of our favorites! Quinoa is a good replacement for pasta or rice. You can combine it with almost everything and it's very easy to make. This time we will show you a recipe with thai vegetables, so you keep on eating your greens ;). All the ingredients all completely vegan. Try it out and let us know what you think!
QUINOA WITH THAI VEGETABLES
The ingredients (for 1 person)
60 grams of quinoa
70 grams of sugar snaps
1 bunch onion
70 grams of mushrooms
1 garlic clove
1 teaspoon of sesame seed
25 grams of mixed nuts
1 tablespoon of soy sauce
Method of preparation
Prepare the quinoa as indicated on the package.
Cook the sugar snaps in 3-5 minutes.
Cut the bunch onion, mushrooms and garlic clove to the appropriate size.
Heat some baking spray in a pan and fry the vegetables with some herbs of your choice.
Add, if the vegetables are warm, the cooked sugar snaps and soy sauce.
Divide the quinoa and the content of the pan an a plate and add the nuts and sesame seeds.
Nutritional values for 1 person:
500 calories / 53 grams of carbs / 21 grams of protein / 23 grams of fat
What do you think of this recipe? Easy to make, right?! Do you often eat quinoa, and what are the best recipes? Let us know in the comments or social media! :)