Baked sweet potato with mozzarella and chicken
On my busy days, I like to spend as little time as possible on preparing my food, while still ending up with a healthy meal. A perfect example of such a dinner is this baked dish with chicken, sweet potato and a whole lot of veggies. All you have to do really is cut up all the ingredients and put it into a baking dish. Easy as that! 
Baked sweet potato dish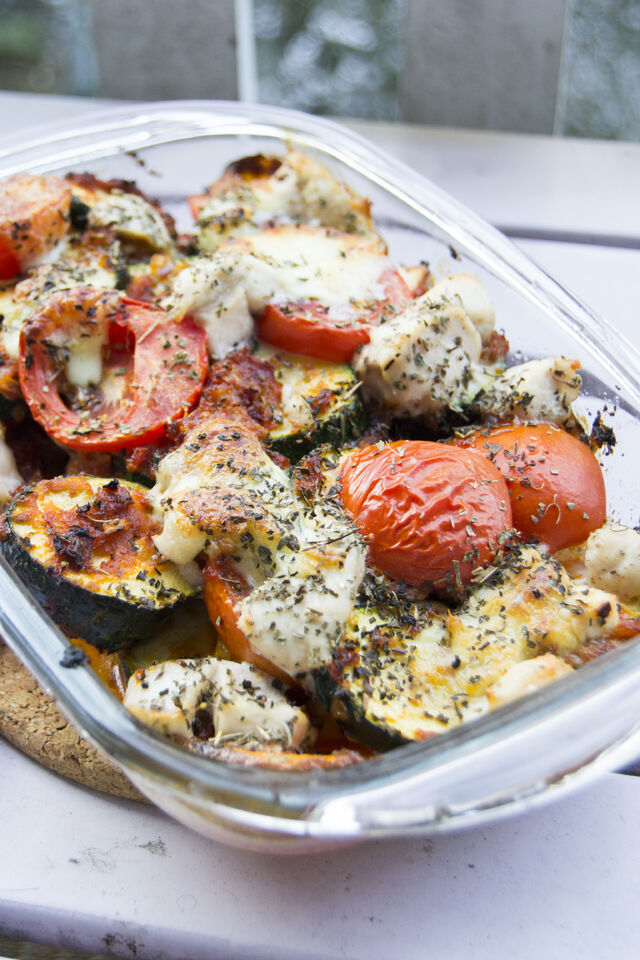 Ingredients (serves 2)
2 Sweet potatoes
1 Zucchini
2 Tomatoes
Mozzarella ball
Dried basil
1 Big red union
3 Cloves of garlic
A few spoons of red pesto
250 Grams chicken breast
Instructions
Cut the sweet potato into thick slices and cook them for about 5 minutes.
Meanwhile, fry the red onion and garlic cloves together in a large saucepan. Then, slice the zucchini into cubes and place them in the pan as well. When everything is cooked through, add the red pesto. The amount of pesto you add, depends on your taste. Personally I used 3 tablespoons.
Cut the chicken into cubes and season it with salt and pepper.
Then, grease the baking dish with olive oil. Place a few slices of sweet potato on the bottom, and place a few spoonfuls of the vegetable mixture above it. Follow up with a few slices of tomato and mozzarella and then another layer of sweet potatoes. In between the layers, you can add the chicken. These will be cooked in the oven. Repeat the layering until all the ingredients are in the dish.
Season the dish with the dried basil, and place the baking dish into the preheated oven for 40 minutes at 200 degrees.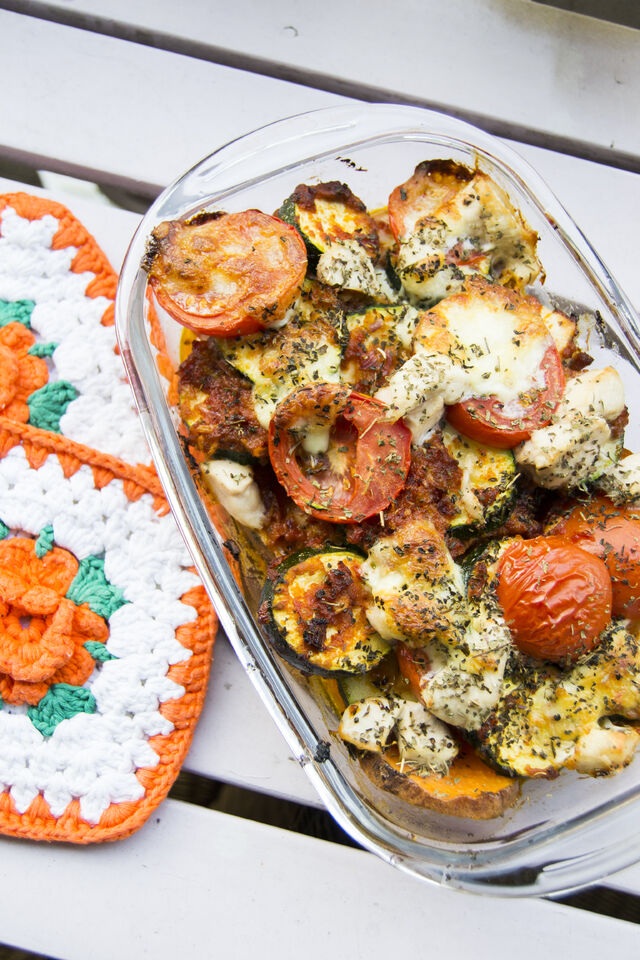 This baked sweet potato dish is absolutely my favorite. It's super simple and also very tasty! It's also a good recipe to make when you have leftover vegetables from the week to use up. Do you also love easy dishes like this one? Got another one to recommend? ;)