Find your workout buddy with Sprinter
Sprinter: The must-have for every Tinder lover who loves working out. With Sprinter you look for the perfect match and a potential workout buddy. Working out together is the latest thing to do and the Swedish brand Björn Borg has responded to this trend perfectly with this app! 
Sprinter: Sweat, swipe, socialize
Sprinter was originally created as a Tinder parody. But right now it's very serious business! To get access to Sprinter users have to generate fuel by working out while holding their smartphone. This unlocks different features in the app like swiping through profiles and instant messaging. You've got to do everything to find the perfect workout buddy. This means you can't browse profiles straight away. You'll first need to do a heavy workout in order to generate your own fuel!
Health Kit
The Sprinter app is directly connected to the Apple Health Kit. This kit collects all of your data while you're doing your workout. This only happens when you actually keep your iPhone with you while doing your workout. The more you move, the more features you will unlock in the Sprinter app.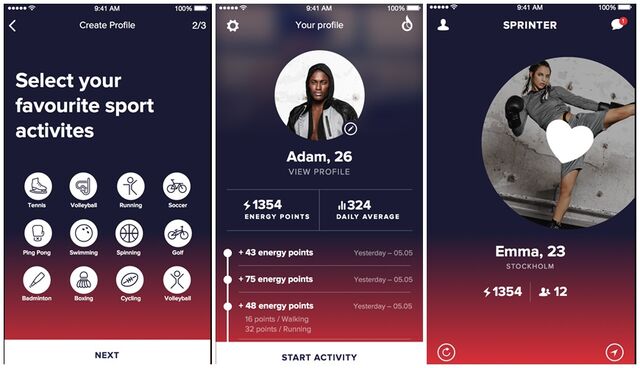 Source: workout.se
Be social
Sprinter also connects with your social media platforms like Twitter and Instagram on which you can share your workout pictures and videos. The app tracks your current location in order to find a workout buddy nearby. And it's also possible to check the users on these social media channels in order to find out whether you have the same interests. It doesn't matter where you live, with Sprinter you can look for a workout buddy anywhere in the entire world!
Motivation
A friendly push in the right direction is always nice. When you start a new goal on the app you receive motivating notifications on your phone. I personally love this feature! The fact that you work-out with someone you don't know so well will definitely keep you from cancelling your work-out date. And imagine this: how awesome would it be if you found your perfect love and fitness match through Sprinter?
Sprinter is available in the App Store for free.
We really love working out with other people. Already have a gym buddy? Try out our favourite couple workouts with them. I'm definitely going to try the new Sprinter app soon. What about you?