Recipe alert! Healthy chicken pesto pasta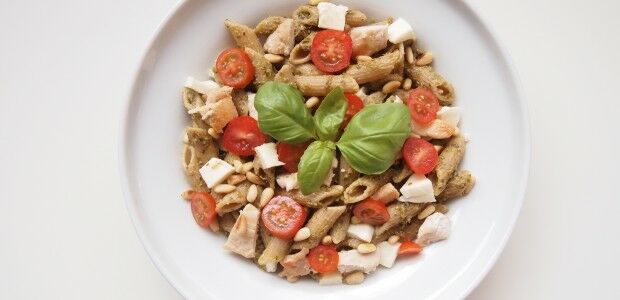 Who doesn't like pasta! We eat here at the Fitgirlcode HQ so many variations; with meat, fish or vegetarian. Hot or cold, it doesn't matter to us. Today we share one of our favorite recipes: the healthy chicken pesto pasta. Buon appetito! :)
INGREDIENTS:
Whole grain penne ( I love penne, but you can use any other type of pasta that you like)
Chicken fillet or smoked chicken fillet (it's just what your prefer)
Jar of pesto, or make your own pesto
Mozzarella
Cherry tomatoes or dried tomatoes (I usually alternate)
Pine nuts
Basil
METHOD OF PREPARATION
Cook the pasta according to the instructions.
Cut the chicken fillet into small pieces / cubes and fry it in (coconut) oil until done.
Sift the pasta and stir in the pesto to taste (I really like pesto so I usually add 2,5 tablespoons).
Cut the mozzarella and tomatoes into small pieces and add it to the pasta.
Roast the pine nuts briefly on high heat and add a small hand of nuts.
Finish the dish with some basil leaves and enjoy!
Are you looking for more food inspiration? We have a #FITGIRLCODE Guide, with more recipes and workoutschedules! Start your Fit journey with one of our Guides! Let us know what you think of this recipe in the comments :)