These are the 5 best vegetarian wraps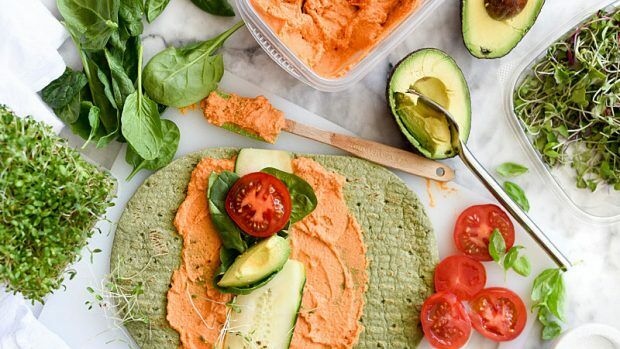 It's a wrap! I think wraps are the favourite meal of many Fit Girls. At Fitgirlcode HQ they are regularly on the menu to replace the standard sandwich, but we also love them in the evening with a nice, warm filling. I do not eat meat or fish, so I went looking for tastiest vegetarian wraps! With lots of vegetables, tasty sauces, humus or cheese. These 5 recipes made it to the top 5 of my findings... And at the end you'll also find a tip to start your vegetarian lifestyle.
Source: Foodie Crush
Humus Veggie Wrap
Ingredients:
1 wrap
1/3 cup humus
2 pieces of cucumber
a handful of spinach
tomato
1/4 avocado
alfalfa and other sprout vegetables
Find the recipe here!
Source: Diet Hood
Creamy spinach and feta wrap
Ingredients:
115 grams cream cheese light
3 tablespoons olive oil
1 small onion
1 bell pepper
salt and pepper
1 piece of garlic
200 grams spinach
2 spring onions
1/4 cup Parmezan cheese
1/3 cup feta
6 tot 8 tortillas
Find the recipe here.
Source: Rachel cooks
Vega wrap with provolone and humus
Ingredients:
1 wrap with spinach
2 tablespoons humus with red bell pepper
2 pieces provolone cheese
1 small carrot
1 small cucumber
1 radish
1/2 cup spinach
Here is how to make these wraps.
Source: Domestic Gothess
Wrap with grilled vegetables and harissa haloumi
Ingredients:
250 grams haloumi
2 1/2 tablespoon harissa
1 zucchini
1 red bell pepper
1 onion
250 grams mushrooms
4 wraps, pitas or flat breads
humus
lettuce
salt and pepper
1 teaspoon smoked pepper
1 1/2 teaspoon olive oil
For the recipe (and how to make sweet potato wedges and yoghurt sauce) go to this website.
Source: Beauty Bites
Lentil wraps
Ingredients:
1 cup green or red lentils
1 cucumber
1/2 cup arugula
1/2 avocado
5 olives
2 tomatoes
2 onions
2 pieces of garlic
fresh basil, dill, coriander and parsley
salt and pepper
1/2 cup yoghurt
6 tortillas
olive oil
Find the recipe here
[maxbutton id="50" ]
Want go all the way vegetarian? Get your Vegetarian Fitgirlcode guide today, and kickstart a new chapter in your life with more than 75 vegetarian recipes. 4 weeks of vegetarian meal plans with weekly grocery lists. 8 weeks of mindfulness guidance and work outs.